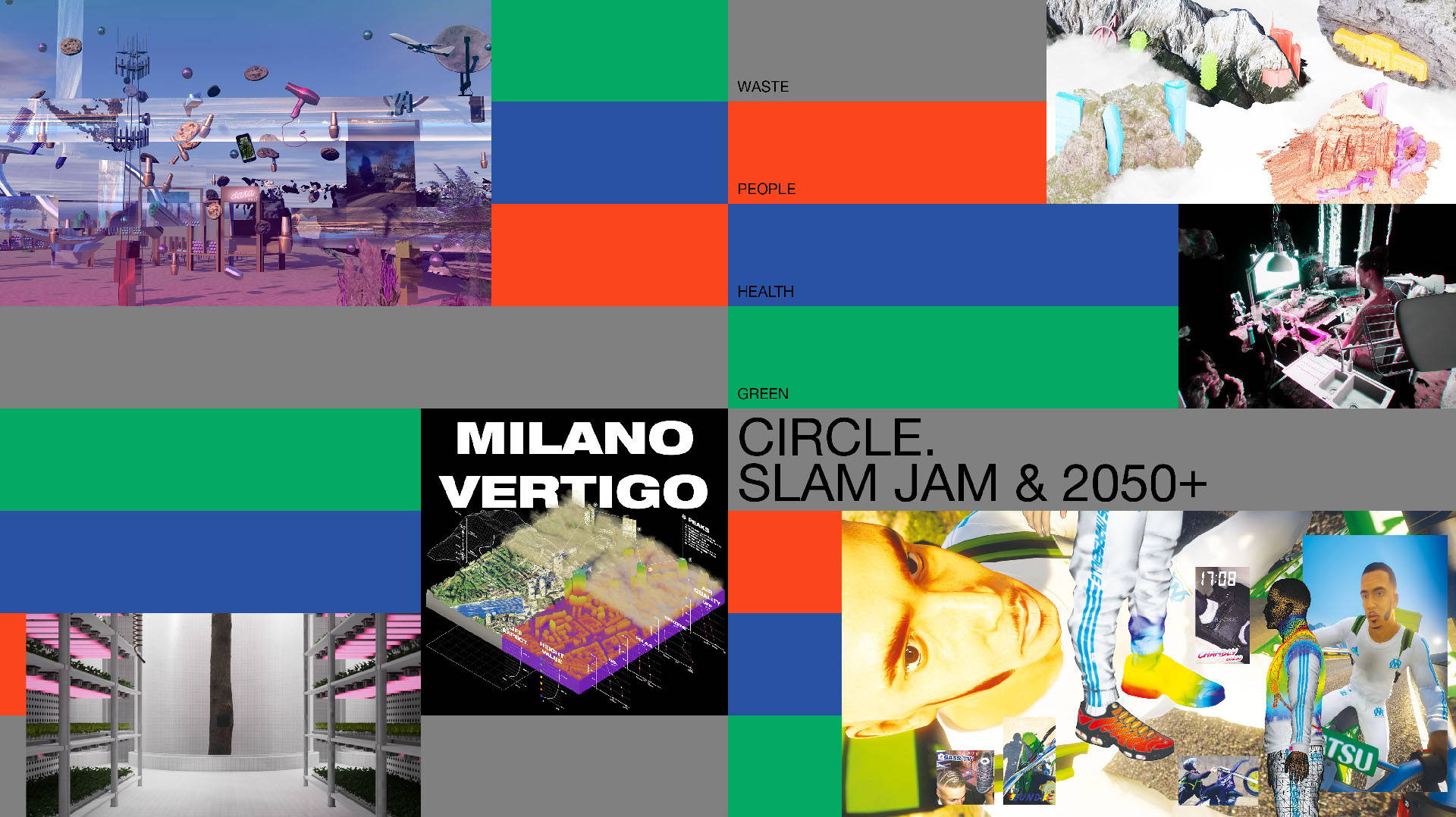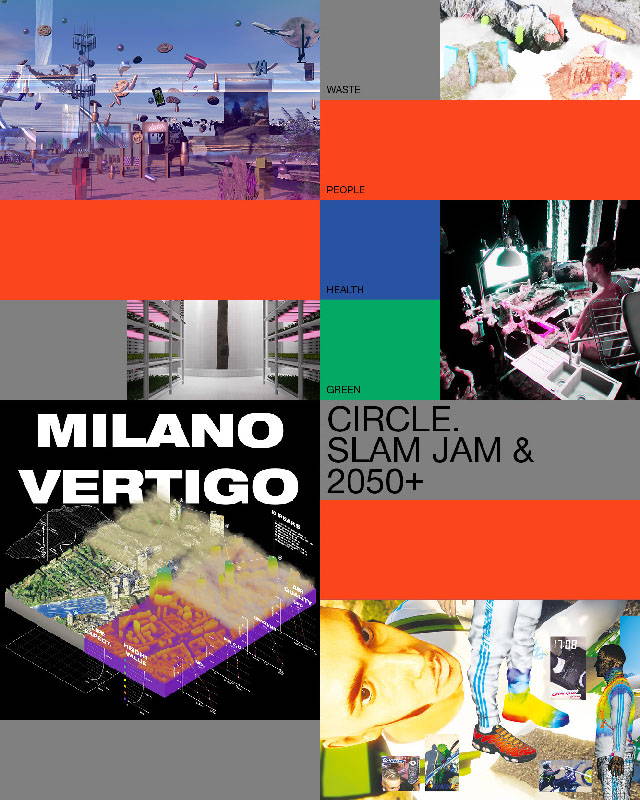 CIRCLE X TERRAFORMA vol. I
CIRCLE is an ongoing think-tank initiated by 2050+ and Slam Jam, that looks at Milan as a concentrate of contemporary and future challenges such as climate change, migration, mass tourism, urban development, just to name a few – hence, as an ideal blueprint to investigate planetary conditions.

On the occasion of the launch of the first issue of Terraforma Journal, 2050+ and Slam Jam commissioned a series of entries to 5 groups of artist and collectives (including alumni of the Royal College of Art, ADS8: Data Matter – The Gaming Edition studio) that with their work explore the dynamics, tensions and feedback loops between digital gaming environments and game engines, allowing for new worlds and forms of politics to emerge. Visit CIRCLE and raise your voice.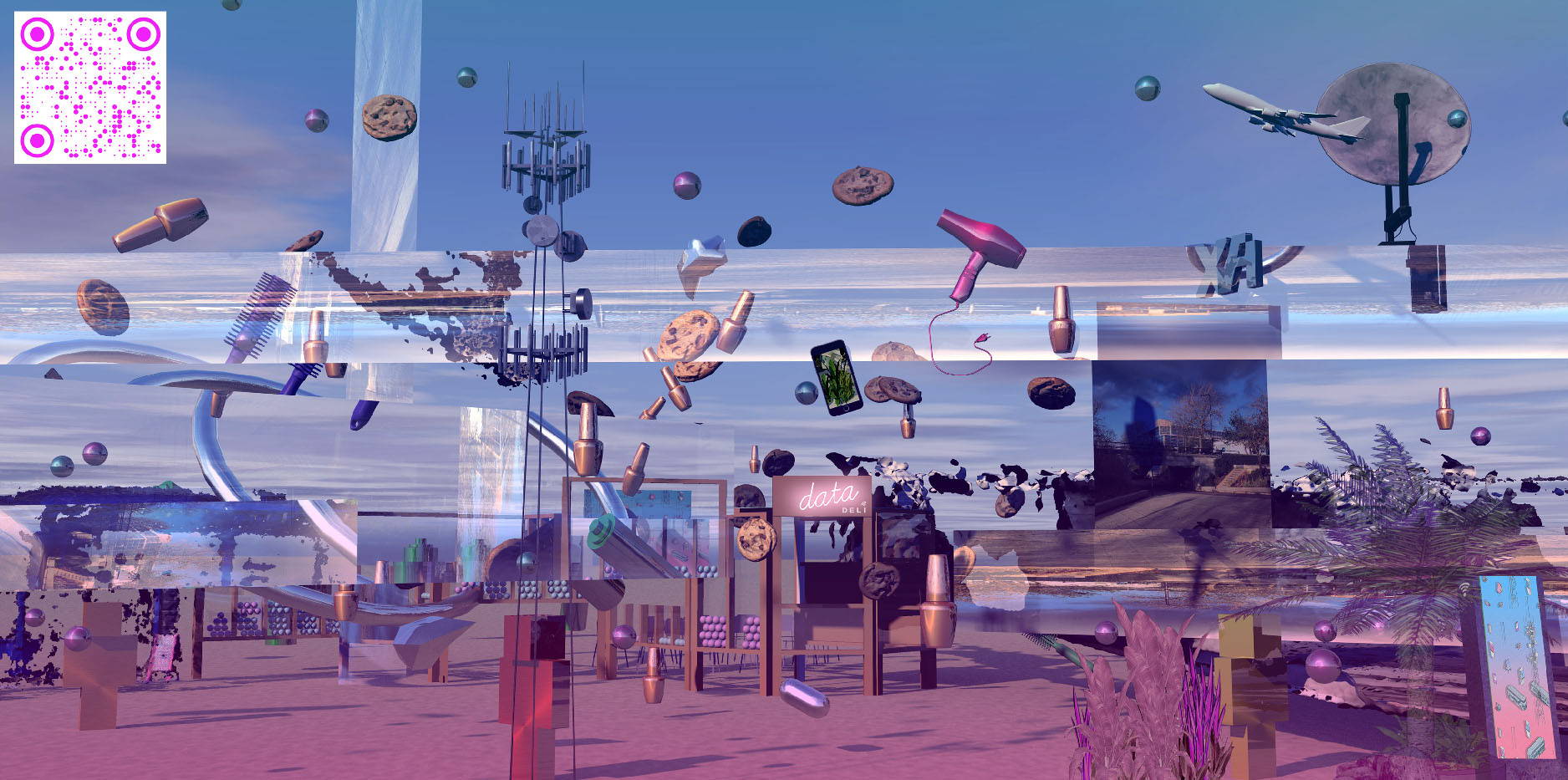 REALITY OVERLOADING:
NEW FORMS OF VISUAL EXISTENCE
Deconstructed digital elements of XA projects that explore the role of hacking in both physical and virtual spaces, from an Augmented Nail Salon to a Data Deli to Milton Keynes Shopping Centre. Scan the QR code to experience our alternate digital world in 360 degrees!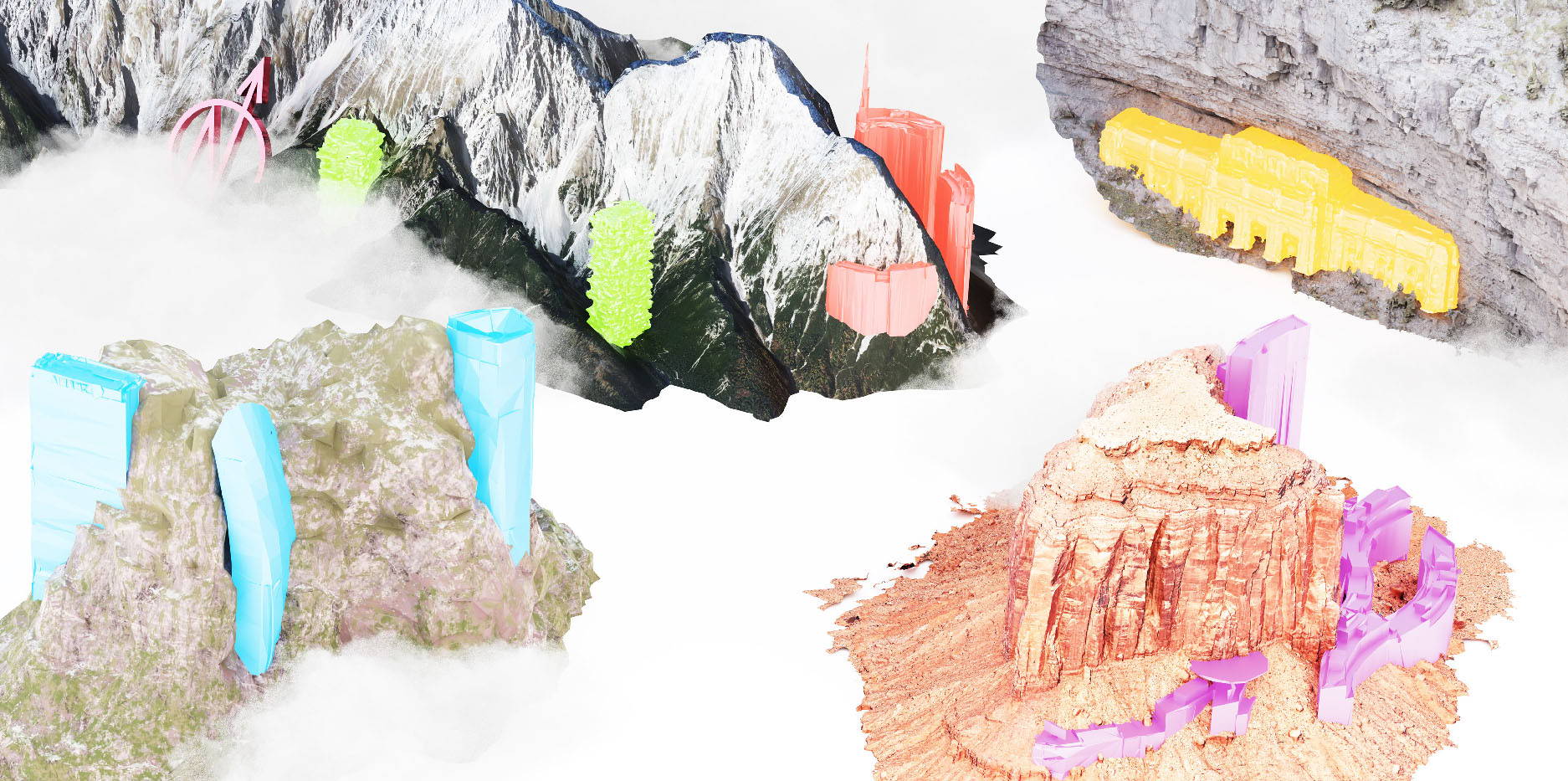 Look on top of your head. What do you see?
No, I'm not talking about the Sky; I'm talking about what's in between you and the Stratosphere. Yes, the Air, that's right. The Air is a physical body. A lot more physical than one might think. Of its 5.5 quadrillion tons, the major part is concentrated near the Earth's surface, where gravity attracts the heavier parts and its density grows higher. That is of course very convenient. You want to have Air that is denser, i.e. easier to be inhaled by organisms alternating contractions and decompressions of diaphragms. Simultaneously, substances other than Oxygen and Carbon Dioxide precipitate to the lower strata of the Atmosphere. Dust, Soot, Smog, Smoke, Chemicals, Vapour collect in the Air we share with other life forms. Human activities have intensified the presence of these components, going as far as putting into threat our own health, together with other life forms. You don't need to worry, though. The solution to the problem has already been devised long since. The Skyscraper, until now utmost fetish to the capitalist doctrine, will be the only urban place of the new luxury. Clean Air. A more rarified future awaits the wealthiest. It appears that Squatters, almost unintentionally, figured all this out a long time ago. Now their logo, an arrow in the shape of a letter "N", resembles more like a mountain. The arrow points Upwards, as if already indicating the new frontier of popular inaccessibility.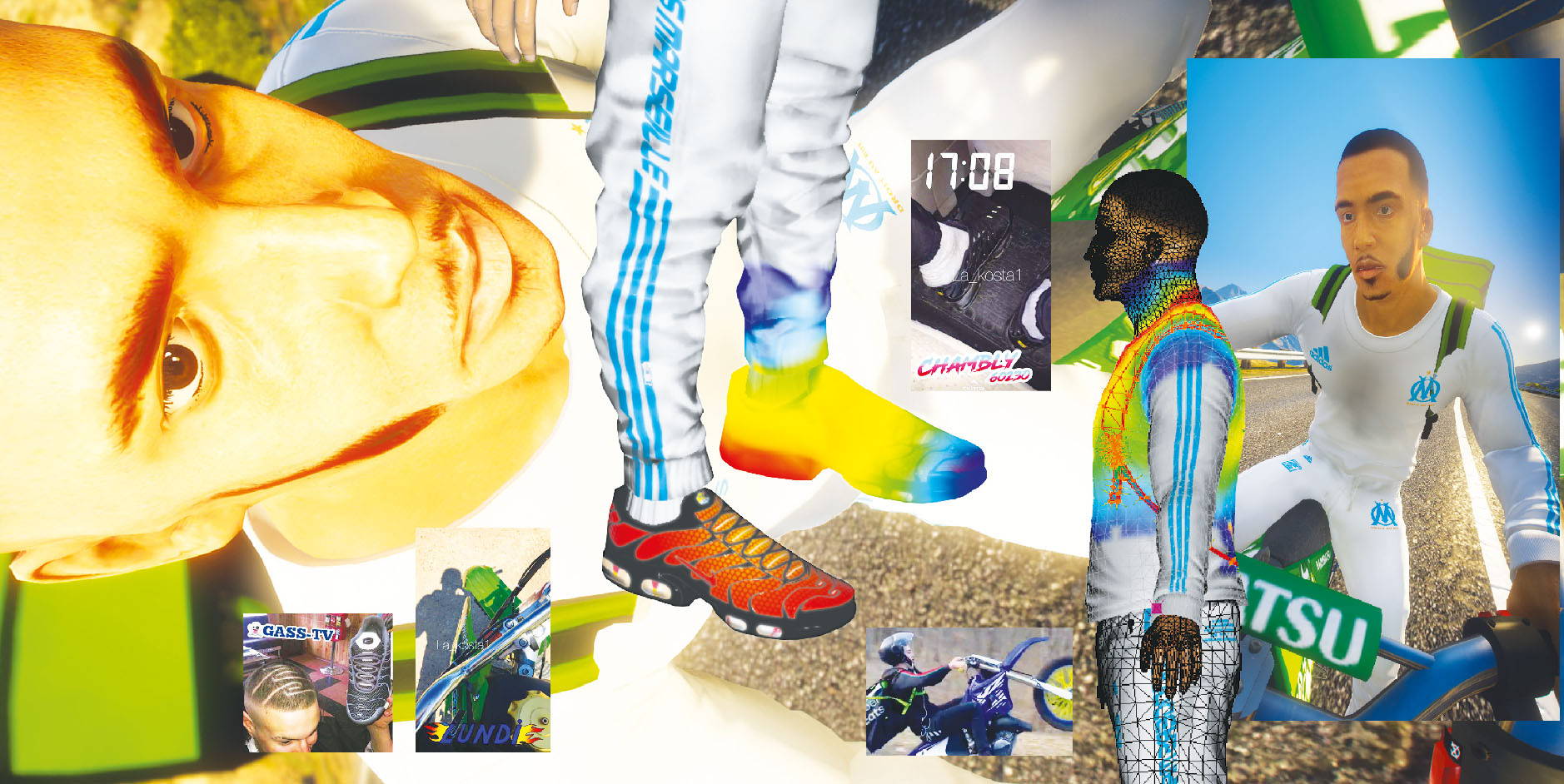 STILLS FROM KHTOBTOGONE – ZINE'S UBER EATS DELIVERING SCENE
This visual essay is a research's fragment from the creation of Zine, the main character of the love- story film Khtobtogone, entirely made in machinima by using the cinema-mode of the video-game Grand Theft Auto V. Khtobtogone was created with this technique as a tribute to the phenomena of French Rap's fans community using it to re-create music-videos. While this game is one of the most famous one played by French teenagers and young men since years, it is sometimes far from them, their realities and their cultures. Thus, some users creates mods of characters, outfits and props to implant them in the game's online version in order to play with them. Some also put them in open-source for others players to use them. The character of Zine was designed as a prototype of a french-maghrebian young man from Marseille. Thus, Zine and his props were fully modelised for the purpose of the film, based on symbols of this community. As some of young working-class unemployed man, Zine is an Uber Eats deliverer. His Uber Eats bag is one of the most striking symbol of those young men life's reality, marking political, racial as well as social and class issues. Ones of the others symbols created for Zine are the Olympique de Marseille football tracksuit, as well as the famous Nike AirMax Tuned pair of sneakers, being the most worn one by those men, being then massively re-approriated among more wealthy communities.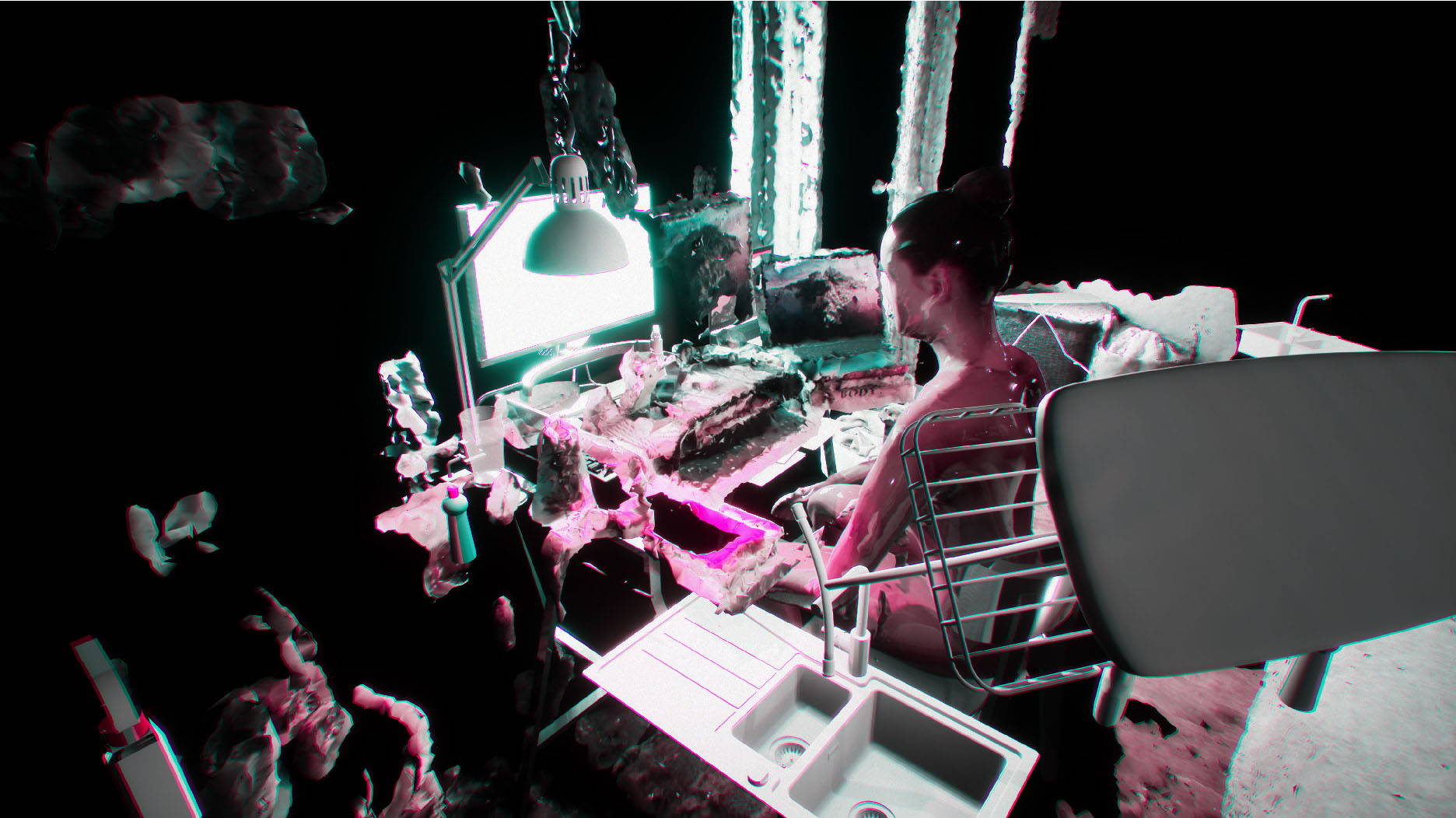 THE CYBER-GAZE: ON THE DIGITALISATION OF CORPOREALITY, SPACE AND FEMINIST PRACTICES
Drawing connections between representation and behaviour, a strategic occupation of the tools that make up environments which further perpetuate biases of the physical world is proposed. Intervening within the structure of digital space, by defining different ways of reacting to a simulated environment, conditions of our physical built surroundings are uncovered In the process of redefining the space of the domestic through a translated physical experience within digital, disrupting tools of spatial design reflect on traditional bodily representation and how that can be rejected in such space. Gradually exposing controlled glimpses of the space and of the body, a patchy digital world unfolds. The resolution of the scans increase as the narrative develops, to a culmination of a hyperreal digital environment, where objects of social construct significance stand witness to the reiteration of biases inherent to the virtual realm. Through repurposing constraints existing in the current construction of digital environments, the speculative piece proposes an unpredictable interaction of the body within digital space, where both have the potential to be challenged. The suitability of computer softwares for construction of both corporeality and space are questioned through the piece, as the non-normative body, disregarded as of gender, class, race or disability is not being taken into account in the development of modelling softwares. Bodies both influence and are influenced by their immediate surroundings, whether digital or physical. Recognising that the ingrained issues of gender struggles within the domestic and urban architectural fabric are dependent on representation is crucial to a disruption of architectural design used as a tool of standardisation of bodies.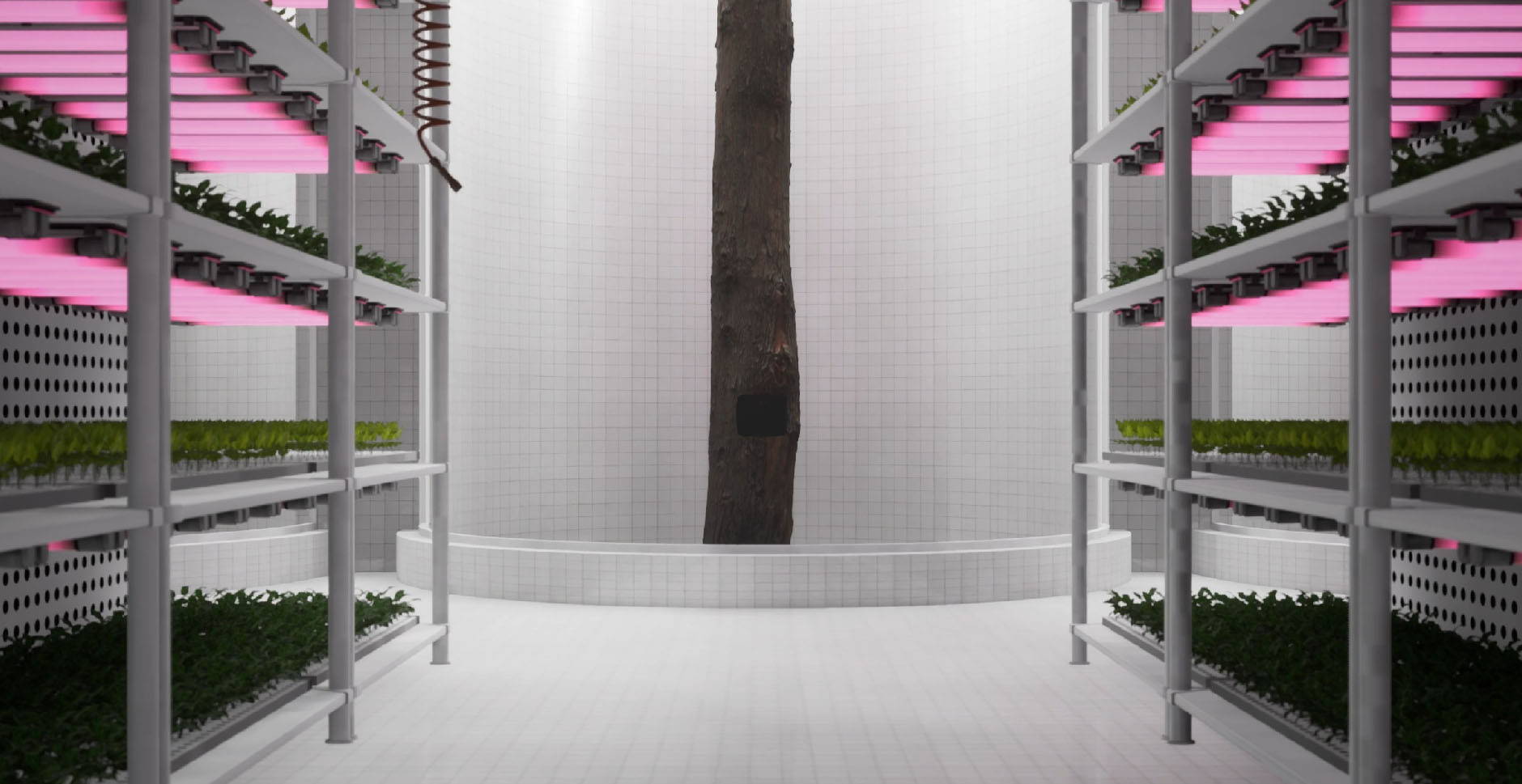 Synthetic Forest is a short fiction film that critiques current tendencies of financialization in response to environmental issues. In this context, the film problematizes how data collection practices and bioengineering mobilize forests to extract financial value. The film fictions the resistance of a mycelium network against a forest that is designed to monetize the carbon sequestration capacity of trees.